Vibration and noise levels are at minimum by using composite shaft.
Maintenance and repair is easy.
Since there is no bedding when composite shaft is used, overheating is never a problem.
No hot processing is required for maintenance and repair.
All platforms are made of aluminum for easy maintenance.
Between aluminum plate and anchorage pillar, vibration and noise absorbing gaskets are used.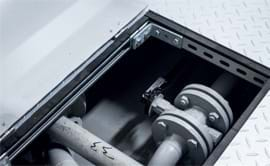 Easy maintenance through the demountable handrails around the equipment.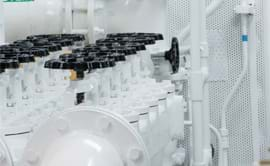 Each machine has 6 resilient mounts, therefore vibration and noise levels are at minimum.
Under the resilient mount, instead of chock fast and epocast, rotachock is used.
Therefore if there is an alignment problem occurs in the future, no crushing work is required.
Adjustments can easily be made with rotachok.