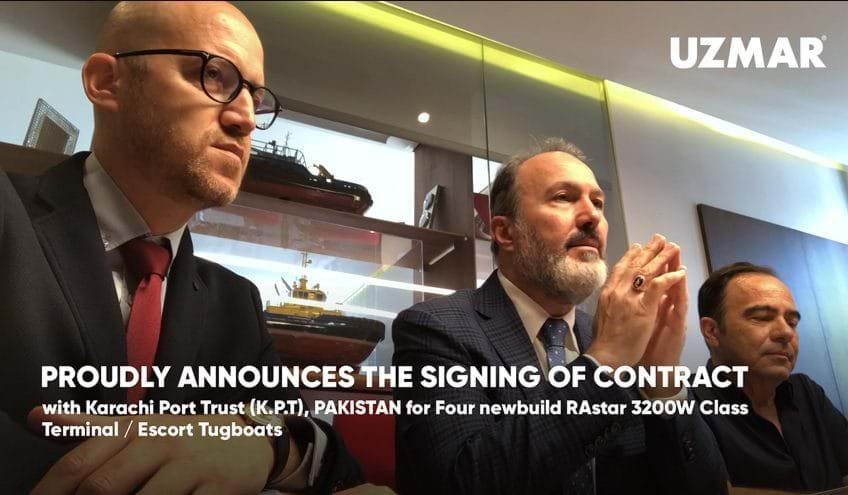 Karachi Port Trust, has signed a contract with UZMAR Shipyard to purchase Four 32,0 meters RAstar 3200W Class Terminal / Escort Tugboats over the video conference on August 18th. Contract is signed between Admiral Mr. Jamil Akhtar HI, Chairman and Mr. A. Noyan Altuğ, UZMAR Chairman of Board.
Mr. Noyan Altuğ highlighted the importance of the relationship between UZMAR and Karachi Port Trust and stated, "We are not selling only vessels but more importantly we are selling our know-how, our detail engineering and our expertise in building state-of-the-art vessels beyond standards. Our after sale services also what makes us different and better in the market. As UZMAR, we are very happy to meet with our friends in Karachi Port Trust and excided to be able to sign this contract during these challenging times of global pandemic."
The new UZMAR-built Robert Allan-design RAstar 3200W Class Terminal / Escort Tugs will be 32,0 meters in length, specially designed to meet the highest sea keeping capability, maximum stability for escort maneuvers at speeds up to 10 knots with sponsoned new RAstar hull form. Tugs will be able to operate with a bollard pull of 75 tonnes (ahead and astern) and will be able reach up to 13 knots speed.
The first two vessels will provide services for (Karachi Port Trust) in the 4th quarter of 2020 and remaining two vessels will be delivered to Karachi Port Trust in the 2nd quarter of 2021.
RAstar 3200W Class Terminal / Escort Tug designs are powered by Caterpillar main engines – Kongsberg Azimuth Stern Drive Propulsion Units and Classified by Bureau Veritas for the following notations;
Bureau Veritas 1 X Hull ●Mach, Fire Fighting-1 with Water Spray, ●AUT-UMS, Escort Tug, (design maximum steering force = 70 t, design maximum braking force = 120 t, design maximum escort speed = 10 kn), In Water Survey, Unrestricted Navigation, GMDSS Navigation Area A3
| | |
| --- | --- |
| DESIGN | ROBERT ALLAN LTD. |
| MAIN ENGINE | Caterpillar 3516C, 2350 Kw, IMO Tier 2 |
| THRUSTER | Kongsberg US 255 Azimuth Stern Drive Propulsions |
| GEN. SET. | Caterpillar, C 7.1 |
| LENGTH | 32.00 M. |
| BOLLARD PULL | 75 TONNES Ahead and Astern |
| WINCH | DMT |