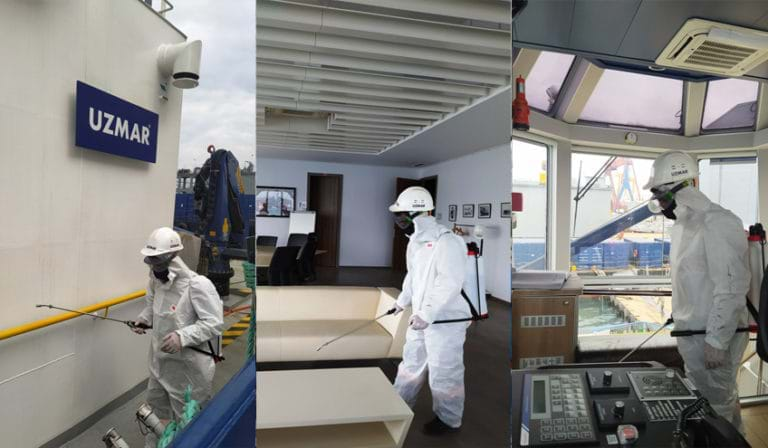 Important measures are taken in our country and in the world to prevent and to fight the rapid spread of Covid-19.
As UZMAR, we take many precautions with great responsibility to create healthy and hygienic working areas while our services continue in our shipyard and ports in these challenging times.
Thanks to the precautions taken with our principle of "Safety First", we manage to cover this situation healthiest way by taking care of the health of both employees and their families and the general public.
As of March 16, we continue to carry out our services under the necessary measures taken in Port services and UZMAR Shipyard by taking the decision to work from home for office workers.
We follow all the measures advised by the Ministry of Health Department of the State; In our shipyard, production areas, offices and common areas are disinfected by professional companies every day, and attention is paid to the rule of "at least 1.5 meters distance" in areas such as dining halls and service vehicles where our employees should be present.
The service vehicles used by our employees who continue their duties in our Shipyard and Ports are meticulously disinfected every day like other areas.
For our employees who carry out their duties using protective equipment in accordance with the standards, there are frequent and abundant disinfectants, mask and gloves in all work areas, along with instructions for use.
Our Nemrut Pilot Station is sterilized regularly by professional teams, UV lamps and air cleaning machines are placed in the areas of common use, as in other work areas.
The same procedures are meticulously applied at our Ambarlı and İskenderun stations, and the health checks of our captains, tugboat personnel and field personnel are carefully performed by our institution doctors. Our staff is isolated in their private rooms during their shifts.
To our devoted healthcare professionals working for us in these difficult days,
Our cleaning teams working day and night in our cities,
To our security teams that continue their services,
To all government and public officials at the beginning of their duties,
To all of our pilots who serve 7/24 for our country, to our ship and port personnel,
To all our valuable workers who continue production for our country in our shipyards and factories,
We are grateful for your devotion and efforts!