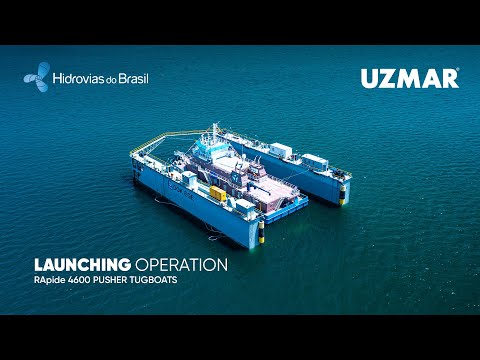 UZMAR and Hidrovias do Brasil S.A. had a steel cutting ceremony for two new push boats back in July 2021 and after about a year, the first vessel has been launched in the last week of July 2022. After successfully delivering eight diesel-electric shallow draft river push boats in 2014 - 2015; UZMAR Shipyard, also known as "Workboat and Tug Factory" of Turkey, has been awarded a contract for two more new push boats. Robert Allen Ltd. designed vessels are measuring 45.6m in LOA, with a breadth of 16.5m, and will be providing a bollard pull of 65 tonnes. The tugs are diesel-electric triple-screw, shallow-draft vessels, and they are driven by three azimuth drive propellers in tunnels
The hull, machinery casing, deckhouse, wheelhouse, and funnels are welded steel construction and the hull form is expected to incorporate a tunnel stern to permit the fitting of large diameter propeller L-drive units to maximize propulsive efficiency in the shallow water environment. The diesel-electric power generation system comprises three resiliently mounted medium-speed generator sets. The engines are designed to operate on either Heavy Fuel Oil (HFO) or Marine Gas Oil (MGO). The shallow draft constraint will dictate that the utmost attention will be paid to weight control through­out the design and construction of every aspect of the vessel.
In order to meet demands for maneuverability, maximized fuel economy, and comply with the crash stop requirement, extensive analysis was performed by Robert Allan Ltd., and as a result, the hull shape, tunnel geometry, and propulsive components have been optimized for those specific requirements. As a pioneer builder of the signature projects, UZMAR Shipyard is proud to have been involved in this innovative project as these diesel-electric push boats will raise the standards of efficiency and safety in the river transport industry.
The second of the RApide 4600 vessels will be launched in September 2022 and be ready for delivery soon after. The new 46-metre-long tugs are designed for pushing barge convoys on inland waterways and they will operate along rivers in northern Brazil, often in remote locations and under challenging conditions.

The vessels will be specifically crafted to push barge convoys of the following size:

Length overall (five barges) = 299 metres
Breadth overall (five barges) = 53.0 metres
Light barge draft = 0.50 metres
Maximum barge draft = 3.36 metres (11'-0"")
Barge Depth = 4.27 metres (14'-0"")"
Maximum convoy deadweight = 48,000 tonnes
Technical Aspects:
GENERAL PARTICULARS
LENGTH (HULL): 45.60m
BREADTH (MOULDED): 16.50m
DEPTH (MOULDED): 4.00m
MINIMUM OPERATIONAL DRAFT: 2.10m
NOMINAL DESIGN DRAFT: 2.50m
MAX AIR DRAFT (@ 2.5m WL): 13.60m
CLASSIFICATION
Plan Approval: BV
Design Basis: ABS A1, RIVER SERVICE, TOWING VESSEL, AMS
ACCOMMODATION –
Total 18 Person
MACHINERY
MAIN GEN-SETS: 3 x 1725 EkW @ 1200 RPM
PROPULSION: 3 x FPP L-DRIVE