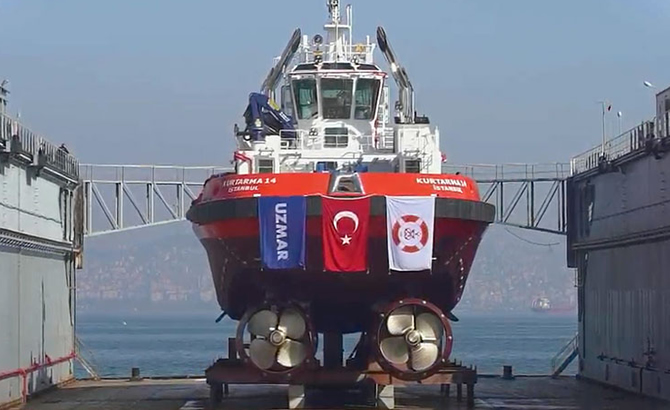 Rescue 14 tugboat built by UZMAR for Coastal Safety met with the sea. UZMAR Chairman of the Board Noyan Altuğ said, "We are building a tugboat for the General Directorate of Coastal Safety for the first time. "We consider our delivery of tugboats to Coastal Safety as a doctor, a diploma."
The Rescue 14 tugboat built by the UZMAR Shipyard for the General Directorate of Coastal Safety (KEGM) met with the sea. While the ceremony was not held due to pandemic conditions, the launch was broadcast live on UZMAR's YouTube channel.
The basic services of the RAstar 3200W series of tugboats, which are considered to be the tugs with the highest maritime, maneuverability and escort capability in the world, equipped with the latest technologies; ship rescue services, escort services, towage services, towing and pushing services, port services, fire fighting services, stand-by services. Each ship will be shipped with two marine diesel engines driving two variable pitch ASD propellers.
WORLD'S HIGHEST STANDARDS
Participating in the live broadcast of the launching ceremony of the Rescue 14 tugboat built by UZMAR for the General Directorate of Coastal Safety (KEGM) on the UZMAR YouTube channel, UZMAR Chairman Noyan Altuğ said:
"The contract for the Rescue 13 and Rescue 14 tug was signed approximately 9 months ago. This tug project was designed by Robert Allan, one of the most commonly built tugs, the RAstar 3200. A tug with 80 tons of traction. This tug operates in various regions of the world ports. It is used in escort, docking and lifting operations of large ships in European ports, Australia, Pakistan and South America. The standards of the equipment of the tug design is today a tug built to the highest standards in the world. It is like delivering these tugs to our valuable Coastal Safety, getting a project from there and making them satisfied, for us I guess it is like doing a doctorate. It is very important to ensure the satisfaction of their standards. I think we will be worthy of them.
WE GIVE TO THE SEA THAT WE TAKE FROM THE SEA
UZMAR Shipbuilding Industry is a subsidiary of UZMAR Shipping. UZMAR is Turkey's first private maritime pilotage and tug companies. Römorkörlük gives guidance and services in Turkey's major ports. As our founder Captain Altay Altuğ says, the revenues, earnings, and the profits we earn from the sea turn into investments. These are not only our own investments, but also the investments we have made in maritime education, the investments we have made in the Turkish youth.
YDO BRING US TODAY
Especially at the moment, graduates of the Maritime School, business graduates, valuable captains, valuable engineers at Istanbul Technical University Maritime Faculty, namely the High School of Maritime. Those currently active, employees, retired people, their families have given their lives to the maritime industry for many years. They have kept this sector alive by giving their lives. There are other universities as well, but the main thing is the Higher Maritime School. Because my father graduated from there, my brother Captain Kaan Altuğ graduated from there, and I graduated from there. They're Captain, I'm chief engineer. Loyalty to this school is very important. In other words, as my father said: "High Maritime School, ie YDO. He fed, fed and made us read. It made us a business owner. We owe everything to this school. My father is a 1956 graduate. Thanks to what he learned at that school, he raised us and established his family. This founded the UZMAR family. She is still 96 years old. He still wants to invest, still be entrepreneurs. The commercial aspects are separate, but the important thing is that we do this job passionately. It is our debt to protect our profession, our school that holds us together.
WE ESTABLISH AUTONOMOUS TRAILER LABORATORY
The situation of our school is clear. We have very valuable and valuable teachers, but the facilities of our school are also limited. For this reason, we try to help education, there a lot. Thank you, our rector, dean, and professors are very kind in this regard. They make a lot of effort and effort. We are about to establish a laboratory for autonomous tugboats there, too. I hope we will do that too.
OUR COASTAL SAFETY DIPLOMA
We are building a tugboat for Coastal Safety for the first time. The tugboats and standards of Coastal Safety are very high. Both controls are very high. It is a prestige for us to build a tugboat for Coastal Safety, as its demands and the construction standards of Coastal Safety are very high. When we can deliver tugboats there, we will be seen as the establishment that built and delivered the tug to the Coastal Safety. This is a prestige project and diploma for us. We will deliver this tug on time.
UZMAR AN TUGER FACTORY
UZMAR is a tugboat factory. All of our experts work for this. We will deliver the tug in 12 months. We launch it in the 9th month. This is very important for the continuity of the UZMAR tugboat and workboat factory. This reveals our performance. There is no other shipyard to deliver this tug in 9-10 months. I would like to thank my friends and the UZMAR family from here. We would like to thank our esteemed Minister of Transport and General Managers. Hopefully, I request you from here. If the pandemic conditions are suitable, it would be very nice for them to come to our shipyard at the delivery ceremony on the 12th month of our contract and honor us. First of all, I would like to thank the staff of the General Directorate of Coastal Safety and the UZMAR family. "
SAFETY OF THE STRAITS
UZMAR Shipyard Manager Orhan Kum, underlining that the safety of life and property in the Turkish Straits, where 50 thousand ships pass through a year, is very important, said, "I think we will have a share here with two newly built tugboats."
COASTAL SAFETY LEADS THE ROAD
UZMAR Project Manager Burak Bölükbaşı said that the Salvage 14 tug is 32 meters long and has 80 tons of towing power.
Gökhan Kamer, Director of UZMAR Design, said that the Coastal Safety project control team transferred their experiences to them, and that they achieved a better design and that they were guiding for future projects.
Despite the pandemic, there was no delay
UZMAR Planning Manager Arif Volga Kaya pointed out that Salvage 14, the second ship after Rescue 13, was brought to the sea on time and that there was no deviation in the dates despite the pandemic, and that they achieved high efficiency and quality thanks to station-based mass production.
THE ULTIMATE TRAILERS
UZMAR Projects Director Mahsuni Gümüş stated that the tugboats they built for the Turkish state are the best in their class and will provide security, emergency response and escort service. Gümüş said, "It will eliminate an important deficiency in the Turkish straits and Turkish seas."