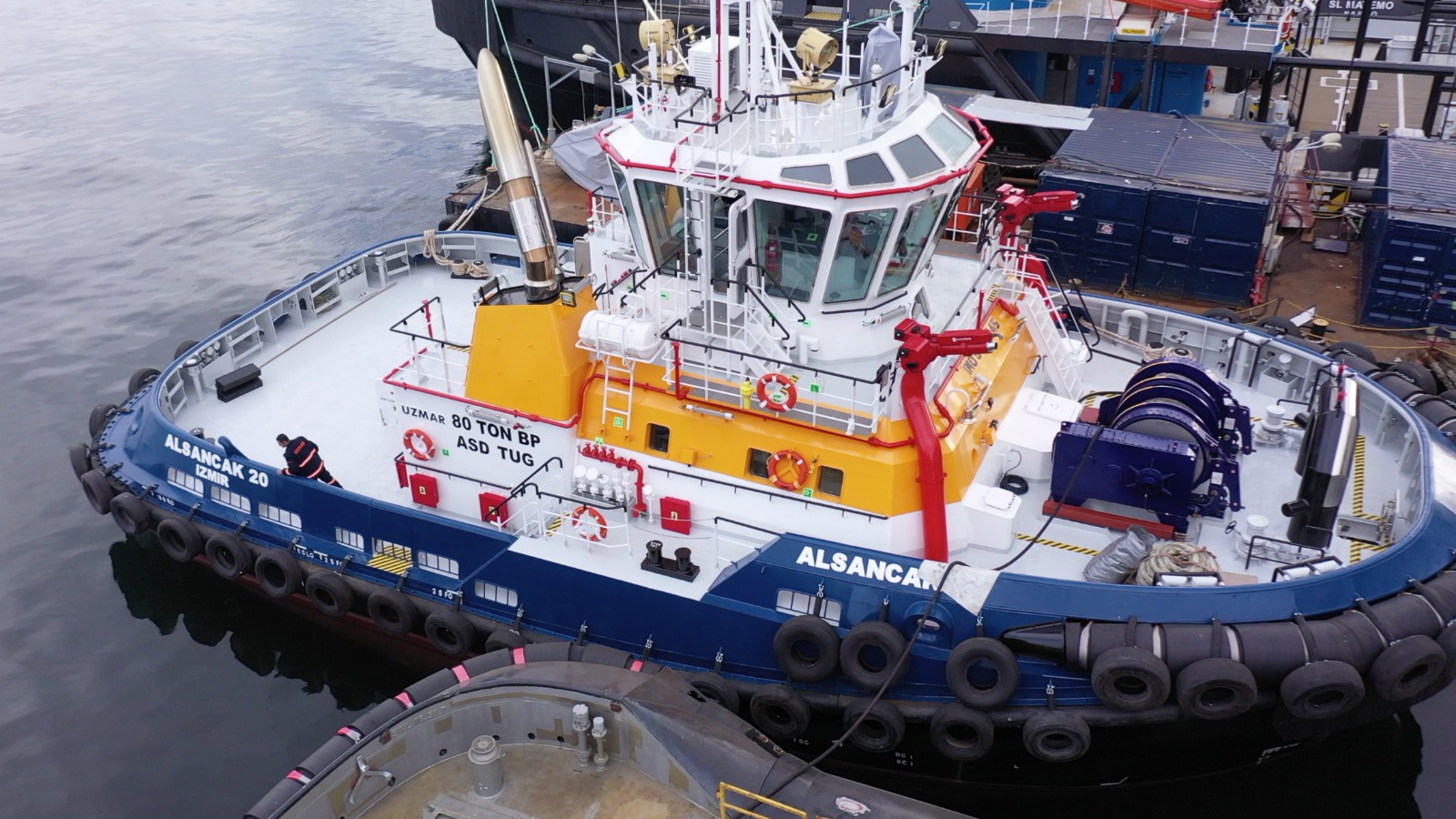 UZMAR, the private pilotage and tugboat company with Turkey's strongest and most modern fleet, sent off its newly built tugboat Alsancak 20 to her service area, at Ambarlı Port. The new Ramparts 2500W series tugboat with a length of 25 meters and a bollard pull of 80 tons will begin her duty in the first days of 2022.
UZMAR is serving with nine vessels at Ambarlı Port which is the Turkey's largest port in terms of container volüme. UZMAR is known as one of the world's leading tugboat-building shipyards, as well as being Turkey's first private pilotage and tugboat company.
UZMAR, successfully carries out tugboat services at Iskenderun Port, Çanakkale Akçansa Port and Ambarlı Port, and pilotage services at Aliağa Nemrut Port. The company also provides emergency response to marine pollution and ship salvage services in the ports where it operates with its certified expert staff.

ALSANCAK 20 - MAIN PARTICULARS
| | |
| --- | --- |
| Design Serie | Ramparts 2500W |
| Notation | BV 1, X HULL, .MACH, TUG, FI-FI 1 with Water Spray,UNRESTRICTED NAVIGATION, .AUT-UMS |
| Main Engine | CAT 3516C 2350kW@1800rpm |
| Fire Fighting | FIFI – 1 - 2xMain engine driven |
| Thruster | KM US255CP 2.8m |
| Flag State | Turkish |
| Length overall | 25.2 m (excluding fenders) |
| Breadth, moulded | 12.0 m |
| Depth, moulded | 4.60 m |
| Draft, navigational | 2.234 ton |
| Gross Tonnage | 348.4 - < 400 |
| Crew Capacity | 6 persons |
| Speed | 12 knot |
| Bollard Pull | 80 ton |
| MLC 2006 | Suitable |
| GMDSS | Area 2 |
| FO capacity | 90.6 m3 |
| FW capacity | 16.6 m3 |
| Foam capacity | 7.10 m3 |