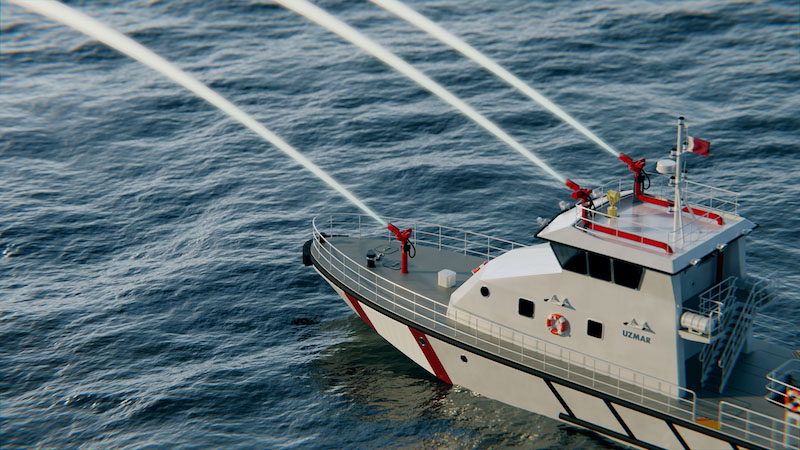 According to Brigadier Saud Al Shafi, the Ministry of Interior signed three contracts with Qatari companies on the sidelines of the 13th International Event for Homeland Security and Civil Defence (Milipol Qatar).
The announcement was made during a press conference at the media centre of Milipol Qatar 2021 at the Doha Exhibition and Convention Centre. Brigadier Abdullah Khalifa Al Muftah also attended the press meet.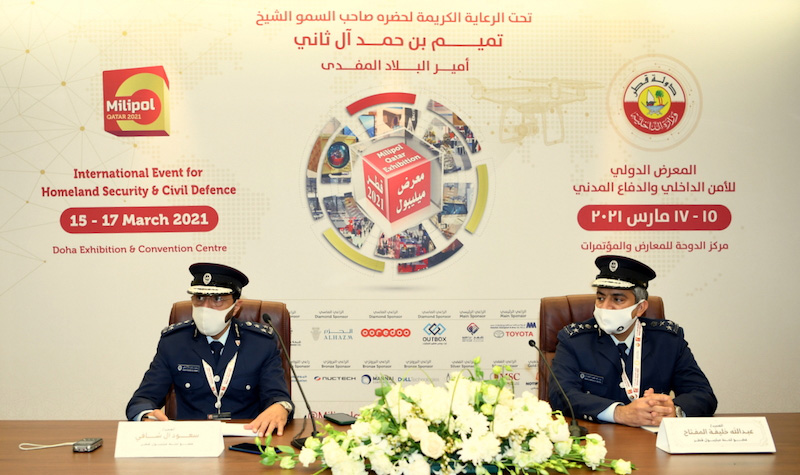 Eshhar Security Services bagged the first contract worth over QAR3.5 million for equipment and traffic devices maintenance. The second contract was bagged by Fahed Trading and Contracting for over QAR161 million for 57 fire extinguishing vehicles. The third contract was signed with Ideal Solutions for maintenance of security vehicles tracking system, worth around QAR6.8 million. The total amount of contracts signed during the second day of Milipol Qatar 2021 reached at least QAR172 million.
New Turkish Fire Fighting Boats by UZMAR
New Turkish Fire Fighting Boats were also unveiled for the first time at the Milipol 2021 exhibition.
UZMAR, a leading Turkish Shipyard, developed the new 24-metre long aluminium high-speed Fire Fighting Boat design as a response to the recent requirements to enhance the fire-fighting capabilities of the Qatari Coast Guard.
In cooperation with the most experienced fireboat designer Robert Allan Canada, the Ranger J-2400 Fireboat is specially designed for the Gulf Area to provide fast emergency response, search and rescue, fire-fighting, and diving operations.
UZMAR already made an agreement with local Qatari company Strategic Technical Services (STS) to provide through-life support services.
Cybersecurity and cyber threats
Milipol Qatar 2021 hosted seminars on cybersecurity and cyber threats, which highlighted the importance of providing adequate infrastructure for the highest standards of security and safety.
According to Fortress Security Consultancy CEO Dr Mohamed Dorani, infrastructure is important and powerful for achieving high levels of protection against cyber intrusions. He said that any imbalance or attack on digital infrastructure would cause damage in various areas, calling for their protection in order to avoid any possible penetration. He also noted that new wars are 'cyber wars'.
Dorani said that cyber-attacks are constantly increasing, referring to the methods of cyber-attacks and their ease of reaching targets through professional hackers, using malicious worms and new viruses that do not have an electronic footprint and can cross any firewall or antivirus programme.
Mika Lauhde from Huawei Technologies called for building confidence between various parties especially as restrictions and lack of coordination between governments and companies in the cybersecurity sector increased during the pandemic.
Other experts from Ooredoo, Dell Technologies and Leonardo, also shared some very important pointers on cyber threats and cybersecurity.
Pakistan Minister of Interior Lauds Milipol Qatar
Pakistan Minister of Interior HE Sheikh Ahmed Rasheed Ahmed lauded the success of this year's Milipol Qatar. He said that the event has been impressive and well-organised.
On the cooperation and relationship between Pakistan and Qatar, the Pakistani minister said that Pakistan is maintaining an excellent relationship with Qatar, thanks to the leadership of HH The Amir Sheikh Tamim Bin Hamad Al Thani and Pakistani Prime Minister HE Imran Khan.