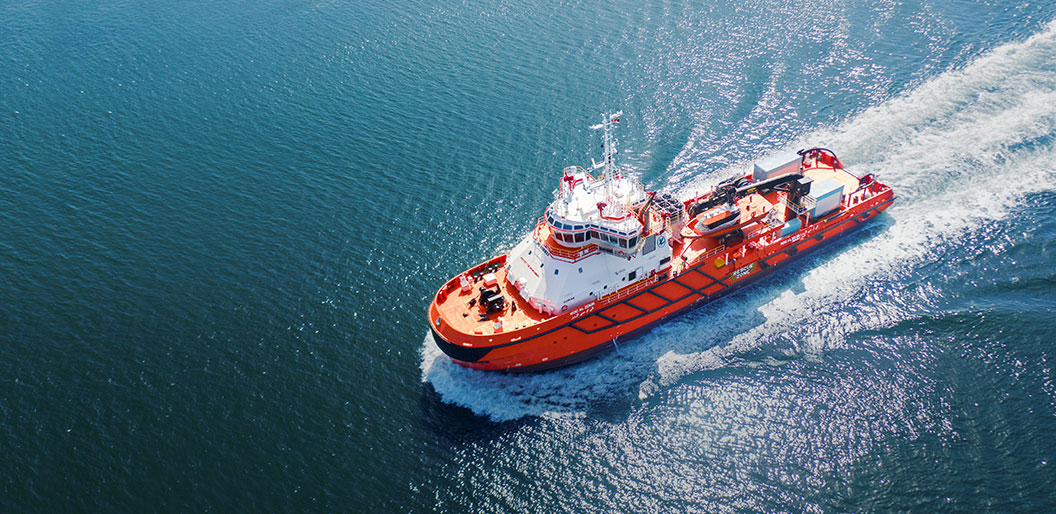 They always try to be bigger and better in the Persian Gulf. The Kuwaitis have certainly achieved that with this enormous, potent, and versatile oil spill recovery vessel.
The very familiar and famous design and build team of Canada's Robert Allan Ltd (RAL) and Turkey's Uzmar Shipyard produced this magnificent vessel of 60 metres LOA and 48 tonnes bollard pull to ensure they achieved that aim. While it may be the ultimate in oil spill recovery vessels, it is nonetheless very versatile and able to perform many other tasks.
"Besides being the largest RAL vessel built in Turkey," the designer told Baird Maritime, "it is a versatile and multi-purpose vessel, equipped to undertake operations such as oil spill response, oil spill containment and recovery, area surveillance, offshore firefighting, back flush capabilities, logistics supply duties, towing services, other offshore services and rescue operation, and related duties in the area around Kuwait and nearby international waters."
"Its multipurpose capability makes it the most important and precious investment KOC has ever made so far for its fleet," added Uzmar. "It has dynamic positioning capability and is also equipped with efficient oil recovery, storage, and transfer capabilities. When not employed in oil recovery, the vessel is suitable for offshore support. The hull shape and the optimised location of the anti-roll tanks ensure that the best possible sea-keeping behaviour is always achieved while on stand-by at sea for long periods of time."
RAL remarked that KOC Al Zour was a challenging project with very demanding requirements, one of which was to have large, recovered oil capacity with a minimum of 750 cubic metres on top of all the normal consumables. This required them to double hull the tanks, which the designer said was difficult to achieve with the minimum separation requirements and to make it buildable at the same time.
"The owner had very strict performance requirements and the design was extensively model tested in Vienna," added RAL. "Another difficult aspect was to meet the no bow trim requirement in any of the operational conditions. This made it difficult because we had a huge amount of volume that is in the aft part of the vessel and reserved for recovered oil, therefore empty for most operations other than oil recovery."
For Uzmar, the difficulty lay mainly in the start of the build process occurring at the same time that the Covid-19 pandemic was making itself felt globally. Fortunately, the project was nonetheless completed and delivered without delay.
"As Covid-19 entered its second year in 2021," the builder told Baird Maritime, "the regulations and restrictions that were imposed to safeguard people's health reminded us of the need to ensure our employees' well-being. We learned that to ensure our people's well-being was to ensure the sustainability of our output, and this is one of the factors that helped us overcome those difficult times."
Uzmar not only overcame those hurdles in 2021, it also continued securing new orders from clients around the world in addition to completing deliveries slated for that year. These include contracts for pushboats for a Brazilian operator, deliveries of four tugs to Pakistan's Karachi Port Trust, and the handover of new tugs to Saam Towage. Construction also commenced on three 42-metre and one 46-metre tug for Smit Lamnalco Singapore.
When asked about the future of the maritime anti-pollution industry, Uzmar replied that alternative energy sources will become increasingly important in addressing what it calls "the main problem" that is fossil fuels.
"In every industry, the machinery, engines, facilities, and production lines that need fossil fuels to run must and will be replaced with those that run on alternative energy sources, but no one knows when this will happen or how far we are from fully electric operating engines or where are we on the path toward the widespread adoption of hydrogen fuel technology."
Uzmar added that the alternative approaches are at the experimental phase, and though there is some implementation in daily use, this is only in a limited number of controlled areas. The builder said it is therefore difficult to foresee when zero-polluting technology will finally be implemented in the industry, though there is a significant number of qualified institutions and manufacturers who are working hard to make such technology possible.
"There is also a safety issue to consider," added Uzmar. "In our line of work, whether the vessels we build are for reputable operators or for our own fleet, we believe safety is the first and the most important thing to consider. Our tugs are providing services to LNG terminals, escorting oil tankers or ships with hazardous cargo, serving along coastal routes, offshore, in straits, and in canals. We must therefore strive to focus on public health and safety while considering the implementation of radical technological changes in the industry."